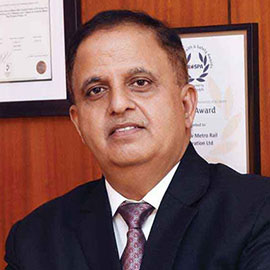 Mr. KUMAR KESHAV
CEO, DB RRTS Operations India
Mr. Kumar Keshav is an IRSE took over as Chief Executive Officer (CEO) of the Deutsche Bahn (DB). Mr. Kumar Keshav with his vast experience of implementing Lucknow and Kanpur Metro in record time is now leading the DB India team for efficient and cost-effective operations & maintenance of India's first 'Delhi- Ghaziabad-Meerut' RRTS corridor.
Previously, as Director (Projects & Planning) at Delhi Metro Rail Corporation (DMRC), Shri. Kumar Keshav had been credited with successful completion and commissioning of various important corridors in Delhi Metro. He held the prestige of the nation high during the XIX Commonwealth Games, 2010 when he commissioned Central Secretariat -Badarpur Metro project on 3rd October 2010 – just on the day of start of the Commonwealth Games – when approximately 70,000 people travelled by Delhi Metro to reach the main venue of the global sporting extravaganza – the Jawaharlal Nehru Stadium.
As the Managing Director of UPMRC, since his joining in August 2014, the organization hasn't looked back and trailblazer in achieving new milestones in the field of metro construction in Uttar Pradesh. Only because of his foresight and leadership, Lucknow Metro has entered in the 'Limca Books of Records' for fastest construction of underground CCS Airport Metro station in record time of just 19 months and 10 days. During the construction, Lucknow Metro uses advanced technologies like the erection of a double 'T' shaped girder, on-site installation of pier-cap and push launching technology which was the first time used in any Metro project throughout the nation. Being an electric operative machine, every segment of the metro premises including train and depot were designed with the architectural view to consume a very little amount of electricity.