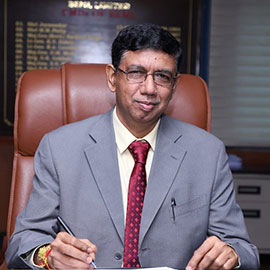 Mr. AMIT BANERJEE
Chairman & Managing Director BEML Limited.
Mr. Amit Banerjee is the Chairman & Managing Director of BEML Limited (formerly Bharat Earth Movers Limited), a Public Sector Undertaking under the Ministry of Defence. He also holds an additional charge of Director (Rail & Metro). The Company operates under three major business verticals viz., Mining & Construction, Defence, and Rail & Metro.
He joined BEML as Asst Engineer in the year 1984 from campus after completing B.Tech in Mechanical Engineering from IT(BHU). His professional career spans over three decades, working in various capacities in R&D, Technology division, and manufacturing functions.
He was actively involved in the design, development & production of various new products. The railway rolling stock products developed under him are Metro cars, EMUs (Electrical Multiple Units), and Maintenance vehicles. The Metro trains were supplied to Delhi, Jaipur, Bangalore, Kolkata, and Mumbai. The EMUs developed were 3phase Mainline EMU, AC EMU, Diesel-electric EMU, and Austenitic Stainless steel body AC EMU. Maintenance vehicles that were developed include Catenary maintenance vehicle for both SG (Standard gauge) and BG (Broad gauge), Utility track vehicles, etc.
Products developed for Defence includes Pontoon floating bridge system (PMS Bridge), heavy-duty trucks for carrying missiles, tank transportation trailer, special wagons, and ground support equipment like Aircraft towing tractor & Weapon loader. As business head he has a rich experience in production functions like planning, procurement, manufacturing, inspection & testing and also business development, in Finance and HR areas.
He made significant contributions including establishing the indigenous design, engineering, and testing capability for metro rolling stock involving sub-systems like car- body, bogie, brake, outfitting, propulsion & controls, interfacing with signaling, telecom, track, power supply, etc. Developed indigenous vendor base for critical metro car aggregates.
Mr. Banerjee successfully productionised and delivered various rail and metro products developed through in-house R&D. This has enabled the company to become a leading player in Metro cars & increase the turnover of itsRail & Metro business and achieve a leading market share in the country.
AWARDS & ACCOLADES
Raksha Mantri Award for Design Effort towards Design & Development of Austenitic Stainless Steel EMU and Intermediate Metro Cars for Delhi Metro.
Global CSR Excellent Leadership Award 'for making difference in the lives of others'.
'Top Challengers'award for growth achieved in 2020-21.
'Best Seller in Crawler Dozers' Award at the Construction World Annual Awards, 2021.
Raksha Mantri Award for indigenization of ARV under Large Scale Enterprise during DEFEXPO 2022.